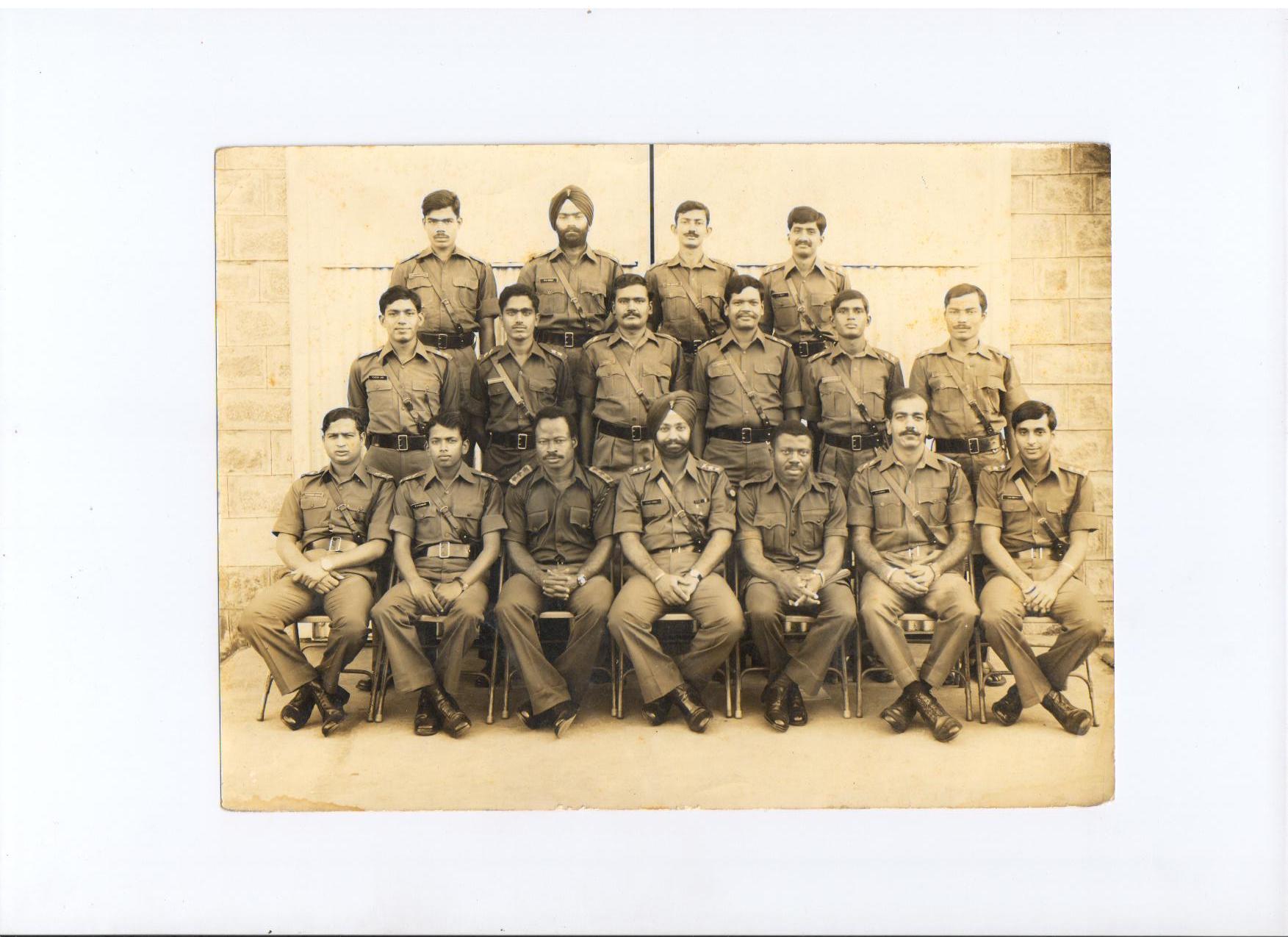 This site is about a retired Army Brigadier who is using/ has used three identities, two of them for opening various bank accounts and borrowing money from his old friends (not to return) and the third for getting his pension from the Army. The person is my batch mate from IMA and Vadodra. In the above picture he is sitting second from left.
The content is to make the general public aware of the habits of the person and to caution them in dealing with him. Secondly, to locate him so that criminal and civil proceedings pending against him in Rajasthan and Haryana Courts can progress. I, Lt Col Yogesh Jain, is fully responsible for all the information in this website.
The Name: Brigadier RK Nambiar. Alias names: Ravindran KN, Ravindran NK,  Ravindra K Nambiar, Ravindra Keshavan Nambiar
DOB: 4.6.1952 as per PAN AHSPN 1323Q : 4.6.1957 as per forged PAN BFOPR6153P
The PAN Card used for Army pension bears the number ASHPN 1323Q
Worked in Indian Army: 1975 to 2008
Last known Permanent Address: Brig RK Nambiar (Retired) alias Mr. Ravindran KN r/o 1701, Tower 8, Sushant Estate, Sector 52A, Gurgaon
Brig RK Nambiar is a conman. He is able to get high position jobs due to his high army credentials. He borrows money from his colleagues by giving some sob story and then vanishes form the area. He rings up his very old friends and request them to transfer huge amounts through NEFT. He gives false information about his current location. After transfer of money in his account he stops picking up the telephone of his friends. He is a cheat. 
If you have been cheated by Brig R.K Nambiar, any time and you can add on to the details mentioned below or if you have ever studied with him in Engineering College at Pune from 1971 to 1975, or worked with him when he was in Army from 1975 to 2008 or with Kalyani Gerdau Steel Ltd (2008-11) or with APJ Foundation (2012) or at APJ Stya University (Jul 2013- May 2014) or at Singhania University (Jun 2014- October 2014), or at ALvas Institute of Engineering and Technology, Modbidri, Karnataka (2015- 2019).
Please contact me at 9812421123 or yjbmiet@yahoo.co.in if you know the current whereabouts of above person.
Details of victims of Brig RK Nambiar
About the Complainant
The complainant is a reputed retired Army Officer and currently working as Deputy Director of BM Institute of Engg. and Tech. Sonepat. The accused/ respondent Brig RK Nambiar (Retired) alias Mr. Ravindran KN purportedly r/o 1701, Tower 8, Sushant Estate, Sector 52A, Gurgaon and the complainant knew each other as army officers 36 years ago in IMA Dehradun, but had had no contact till March, 2013.
That the accused/ respondent retired as a Brigadier in 2008. That as per the documents held in Army Headquarters, his date of birth is 04/06/1952 and the PAN Card number is ASHPN1323Q- That the pension of the accused/ respondent is received at Syndicate Bank Gurgaon savings account no. 53242010031513.
Note: He has changed his pension account from the above bank also
His PPO number is M/003374/2008
That as per my information on him a loan of Rs 14,45,529/ is outstanding against the person with above PAN Card and name.
That in 2012, the accused/ respondent fraudulently obtained another PAN Card with number BFOPR6351P from IT Authorities by submitting false documents of his age as 04/06/1957 and name as Ravindran Keshavan Nagapuram (Ravindran KN) to escape the dragnet of law and to avoid repayment of loans obtained from various banks and to avoid payment of taxes.
That the complainant received a phone call on his cell phone from the cell number 8861106475 of the accused/respondent on 20 March, 2013. The accused/respondent stated that he was in Naxal affected area of Chhatisgarh and had monetary problems. The accused/ respondent asked the complainant for an urgent loan with a promise to return it as soon as the accused/ respondent could, after getting back from Chhattisgarh. Trusting the accused/ respondent to be a gentlemen army officer in need and believing his call to be a genuine distress call, the complainant transferred Rs.1,75000/- as per details given in table below through NEFT on 22 March 2013 as per the account details given by the accused/ respondent through an E Mail from Email ID, ravi_nmbr@yahoo.co.in dated 21.03. 2013.
That now it is found that the accused/ respondent opened at least three accounts in banks namely, PNB,SBI and Syndicate Banks at Bangalore with the help of false addresses, false PAN Card, to deceive his old friends. He gave different stories to different friends on telephone and obtained heavy loans from February 2013 to April 2013. In each case, after the loan was transferred to him, he stopped picking up their phones. He avoided the direct contact as he never gave his correct location or place of working to any of his friends. A list of such friends, the amount of loan transferred through internet, his account in which this amount was transferred is attached below:
| | | | |
| --- | --- | --- | --- |
| Victim of RK Nambiar | Amount tfr through net and date of tfr | Account no. of RK Nambiar where tfr | Reason Given by RK Nambiar |
| Lt Col Yogesh Jain r/o New Delhi Tel No: 09812421123 yjbmiet@yahoo.co.in | Rs 1,75,000/- (22.03.2013) | PNB Bangalore 4774000100011986 IFSC:PUNB0477400 | That he was in Naxal Area in Chhattisgarh and needed money which he shall return on returning to Bangalore |
| Lt Col AP Ramachandranr/o ChennaiTel No: 09840048146apramchandran@yahoo.com | Rs 1,00,000/-(12.02.2013) | SBI Bangalore 20153506386 IFSC: SBIN0015647 | He asked for Rs 1 lac for a short period but worst is that he is not responding to calls at all |
| Maj CM Bhandor/o New DelhiTel No: 09312268615cmbhando@yahoo.com | Rs 1,50,000/- (25.03.2013) | PNB Bangalore 4774000100011986 IFSC: PUNB0477400 | He said that he needed urgently for some financial crisis. He will return within 15/30 days. He is not responding to my calls / e-mail / SMS's.. |
| Col Ravi Kumar Gr/o HyderabadTel No: 9440807072rkguduru1@gmail.com | Rs 3,00,000/- (11.04.2013) | Syndicate Bangalore 06572200035466 IFSC: SYNB0000657 | He said that he was in Bangalore and need to pay the Builder with whom he booked an apartment and will return the money on reaching Pune where he has fixed deposits |
| | 7,25,000/- | | |
That it is now known that the accused/ respondent joined Apeejay Stya University in August 2013 as a Professor in Engineering and left the job in May/ June 2014. However, when the complainant persisted that the accused/ respondent return his money, the accused/respondent sent an E Mail on 11.10.2013 to the complainant stating, "The project in which I am stuck in Chhattisgarh has been delayed because of rains and labor problems. I ll be able to get back by end October. Please bear with me till then." Again, on 11.1.2014, the accused/ respondent sent an E Mail to the complainant seeking time till 10.2. 2014 giving a false excuse that the NGO had run into some hassles. Again on 02.04.2014 through an E Mail, the accused/ respondent stressed that he was in Dhamtiri in Chhattisgarh with APJ Foundation and will soon return the money. That all this time when the accused stated that he was in Dhamteri working with APJ Foundation, he was actually working in Apeejay Stya University and staying at Gurgaon as revealed from a Google search in August 2014. The accused/ respondent had lied to cheat.
That, in order to cheat the complainant by hiding his location, the accused/ respondent issued multi city checks drawn on SBI, Bangalore in April 2014. The accused/ respondent, falsely mentioned his address as c/o 23/56, Station Road Dhamteri on the envelope containing the cheques, whereas he was a resident of Gurgaon at that time.
That the two cheques of Rs 45000/ each were dishonored by the SBI, through Clearing House at Sansad Marg Delhi on 19/09/ 2014 due to the instructions of the accused/ respondent to `STOP PAYMENT' . Thus, the accused/respondent, with dishonest intentions, has defrauded the complainant of his money. Stopping payment without giving any reason meant that the he was not even accepting his liability.
That the accused/ respondent joined Singhania University, Pacheri Bari, Jhunjhunu as its Pro Vice Chancellor in August 2014. However, in another attempt to hide his location and cheat, issued a multi city cheque for Rs 75000/ drawn on a branch of PNB, Bangalore and sent the same in an envelope with his address mentioned as Station Road Dhamteri, by speed post to the complaint. On presentation, this cheque was dishonored by PNB at Sonepat due to the reason, "Funds Insufficient".
That the accused/ respondent was sent a notice on 17/10/2014 by the complainant under Sec 138 of Negotiable Instrument Act on 27/10/2014 at his then address of Singhania University, Pacheri Bari, Jhunjhunu. However, it is now known that the accused has gone missing from Pacheri Bari as well. On inquiry from the University, the Complainant was shocked to find that the accused/ respondent borrowed about 2.5 lacs from 5 different persons and issued checks to them of another bank account opened at PNB Jhunjhunu all of which have been bounced. The details of such victims is attached.
Money collected fraudulently at Jhunjhunu while he was Pro Vice Chancellor of Singhania University from August 2014 to October, 2014
| | | | |
| --- | --- | --- | --- |
| | | | |
| Mainpal Singh, Singhania r/o Pacheribari Jhunjhunu 09050469511 Mainpalchauhan.singh@gmail.com | Rs 1,60,000/- | Cash | Return by PNB Jhunjhunu cheque7296006900001194IFSC:- PUNB0729600 For Ex-service Man Fund &Promised return in 2 month. He gave him a check dated 18/11/2014. Cheque dishonored. |
| Desraj Yadav Dean Academics, Singhania Jhunjhunu 09416575020 | Rs.22,500/- | Cash | Return by PNB Jhunjhunu cheque7296006900001194, IF: PUNB0729600 For purchasing a flat or Daughter College Fee. Check date 01/11/2014 now Cheque Bounced |
| Dr. B.L. Kataria retired Medical Officer Nowworking in Singhania UniversityMob. No:- 09314393501 | Rs.20,000/- | | For urgent work |
| Dr.Dhananjai Retired DIG Of CRPF now working in Singhania Univeristy . 07727036982 | Rs.6000/- | | For Short Duration |
| Chairman Rajkumar Yadav of Singhania University | Rs.30,000/- | | For Daughter College fee. |
| | | | |
That the Complainant spoke to Mr Rohit Nambiar, the son of the accused on telephone. And, the son has stated that the accused/ respondent is not in contact with them and that his mother, the wife of the accused, was dependent on him. It is also seen that the accused/ respondent has got his cell number 8861106475 disconnected. The complainant made many inquiries to common friends and came to know that no one knew the whereabouts of the accused/ respondent and that the accused/respondent had borrowed money from many in lacs on one pretext or the other and he was hiding and not responding to their phone calls after receiving money electronically. The details of some other friends/ banks is given in the list attached:
| | | | |
| --- | --- | --- | --- |
| Col Suhas Jatkar r/o Pune suhasjatkar@yahoo.com | Rs 6,00,000/- | | Details are yet not available. |
| Col Georger/o Bangalore 09480023775 gpkurien@gmail.com | Rs 50,000/- | Syndicate Gurgaon 53242010031513IFSC: | |
| Col Devender r/o Gurgaon coldevender@yahoo.com | Rs 10,00,000/- | | Details are yet not available. The officer collected money from many friends and gave it to RK Nambiar |
| | | | |
| --- | --- | --- | --- |
| Ravi Gowda Fullerton Bank Bangalore (NBFC)9880988971 venkatesha.r@fullertonindia.com | Rs 5,00,000/- Date? | | A NBFC of Bangalore whose loan not returned. |
That the accused has finally defrauded the Complainant through sheer unscrupulous tactics and lies. While the accused claimed to be in Chhatisgarh or in Bangalore, he was in fact not there. The accused has been scrupulously concealing his whereabouts to escape the dragnet of the law. It is now also apparent that the intentions of the accused all through was dishonest and he intentionally and purposely handed over the cheques, which he never intended to honor. By his act of issuing the aforesaid cheques in favor of the Complainant and thereafter, failing to honor the cheques in question, the accused has inter-alia committed the offence of fraud, cheating, criminal breach of trust punishable under the Indian Penal Code, 1860 and is liable to be prosecuted under the provisions of the said act. Furthermore, the accused is liable to be punished under section 138 of Negotiable Instrument Act and under section 420 of Indian Penal Code.
That notices sent to him at various addresses given by him as available in his two PAN Cards, as given by him to various banks in Bangalore, as given by him in his E Mails and envelopes to the Complainant and as given by the accused to his employers have all been returned undelivered
That in Criminal Appeal No 2287 of 2009, in Dashrath Rup Singh Rathod vs State of Maharashtra, decided on 01.08.2014, the Hon'ble Supreme Court in para 18 as follows:
"18. We feel compelled to reiterate our empathy with a payee who has been duped or deluded by a swindler into accepting a cheque as consideration or delivery of any of his property; or because of the receipt of a cheque has induced the payee to omit to do anything resulting in some damage to the payee. The relief introduced by Section 138 of the NI Act is in addition to the contemplations in the IPC. It is still open to such a payee recipient of a dishonoured cheque to lodge a First Information Report with the Police or file a Complaint directly before the concerned Magistrate. If the payee succeeds in establishing that the inducement for accepting a cheque which subsequently bounced had occurred where he resides or ordinarily transacts business, he will not have to suffer the travails of journeying to the place where the cheque has been dishonoured. All remedies under the IPC and CrPC are available to such a payee if he chooses to pursue this course of action, rather than a Complaint under Section 138 of the NI Act. And of course, he can always file a suit for recovery wherever the cause of action arises dependent on his choosing."
That it is prayed:
That the accused/ respondent be declared as an absconder.
That the accused be brought before the law to face legal action for cheating and fraud and under Sec 138 of Negotiable Instrument Act.
His pension account number 53242010031513 at Gurgaon may be frozen till he surrenders before the Police. His pension paying authority CDA Pension Allahabad may be informed to withhold his pension till the accused reports to the Police.